Safely dispose of unused meds
April 21, 2022
---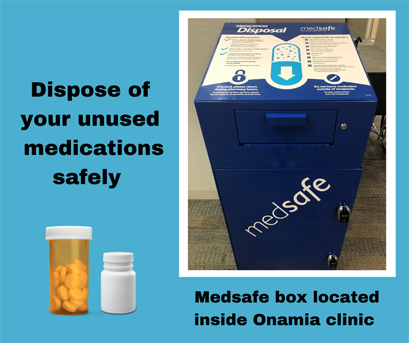 The U.S. Drug Enforcement Administration (DEA) hosts a National Prescription Drug Take-Back event twice a year. These events are usually held in the spring and fall. This year the spring date is April 30, 2022. At a past one-day event in Minnesota, 3 tons of medication were collected, and nearly 450 tons nationwide for the one-day event.
The National Prescription Drug Take-Back Day makes this a good time to remind everyone that Mille Lacs Health System offers a permanent safe medication disposal station available year-round. The Medsafe bin is located inside the Onamia Clinic. The public is welcome to dispose of medications during open hours of the clinic which are Monday – Friday 9:00 a.m. – 5:00 p.m., and Saturday 9:30 a.m. – 12:00 p.m.
Now is the time to clean out those medicine cabinets. Dispose of all your unused or expired prescription drugs, over-the-counter medications, and liquid meds. Items not accepted in the Medsafe bin include illegal drugs, syringes, inhalers, and medical devices.
Expired medications or those you don't use anymore have no place in your home. Medications may get into the wrong hands or can be misused. Expired drugs may be less effective or even harmful if they are taken. Toss products that are not sealed properly. Exposure to air, moisture, and heat may have altered the effectiveness or made the product dangerous to use.
Many people who misuse prescription drugs, especially painkillers, get them from the medicine cabinets of family and friends. Disposing of the medications safely will also prevent them from getting accidentally ingested by children or pets.
A report from the National Institute on Drug Abuse estimates that approximately 45 people die per day in the U.S. from a prescription drug overdose. Drug overdoses are now the leading cause of injury deaths in the U.S., and most overdoses involve opioids. The removal from homes of unwanted prescription pills that can be abused, stolen, or resold is an easy way to help fight the epidemic of substance abuse and addiction.