Men's Heart Health
June 13, 2022
---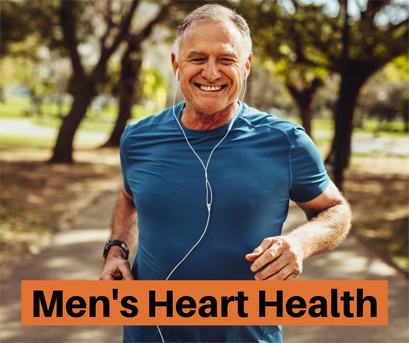 June is Men's Health Month, and one of the major health concerns for men in the United States is heart disease. One in three adult men has a heart issue, such as angina, coronary artery disease, or arrhythmias. Fortunately, by learning about the symptoms, risk factors, and best practices for prevention, you can protect yourself.
Knowing the early signs of heart disease is the first key to ensuring a healthy heart. People often find out they have heart disease after a heart attack, but there are early signs to watch for. You may, for example, have heart arrhythmias, which can lead to dizziness, an irregular heartbeat, chest discomfort, or difficulty breathing after physical exercise. 
Early signs of heart disease that are related to the blood vessels can include fatigue, pain in the extremities, chest pain, and shortness of breath. These symptoms often result from the blood vessels narrowing, which can cause plaque to build up and reduce oxygen in the blood. 
Erectile dysfunction (ED) is another common sign of cardiovascular problems. Men in their forties who have ED have an 80% risk of having heart disease within the next ten years. Additionally, low testosterone is linked to heart disease and type 2 diabetes, which is another risk factor for heart issues. 
Beyond knowing the early signs to watch for, there are also actions to take to keep a healthy heart. Start by focusing on your diet. Eat plenty of vegetables and fruits, and avoid foods that are high in sugar, sodium, or saturated fat. Additionally, work to maintain a healthy weight. Being overweight can lower testosterone and increase the risk of heart disease. To help yourself maintain a healthy weight drink plenty of water, and avoid junk food and processed carbs.
Exercise is crucial to protecting your heart. Aim to do moderate aerobic exercise for around two and a half hours a week. Exercise will improve circulation, lowering your heart rate and blood pressure. It also decreases your chances of developing diabetes and controls your blood glucose, improving your heart health. Some popular types of aerobic exercise include brisk walking, swimming, playing tennis, cycling, and jogging.
Men's Health Month is a good time to think about scheduling your annual physical with your medical provider, especially if you have any concerns regarding your heart health based on the symptoms mentioned in this article. Call MLHS at 320-532-3154 to schedule your appointment.